Trends
Top 10 Hottest Amapiano Songs by Nigerian Musicians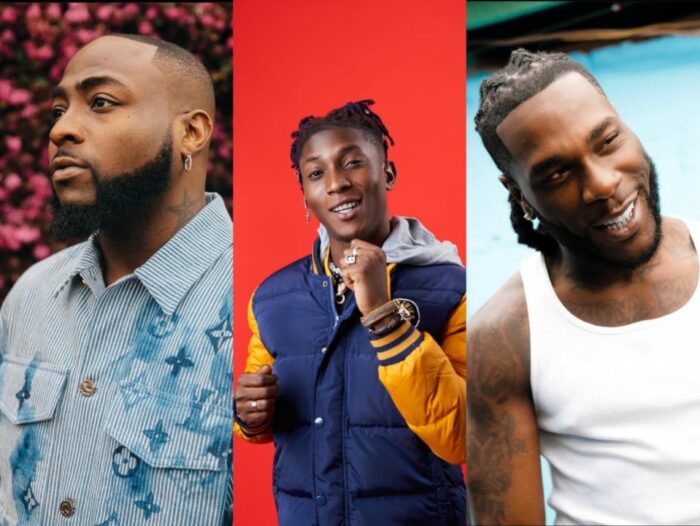 There are several similarities between nations of the African continent that makes it feel like siblings in a huge compound; deeply connected while uniquely diverse all at the same time. Over the years, similar experiences and shared ideas have also come to inform some of these similarities, and with the age of the internet well underway and in our daily lives, the pop culture of these nations have several times like siblings do with clothes, been swapped out and tried on in different creative ways. As music tends to transcend language barriers to connect on deeper levels, one of the most obvious and best enjoyed of these ways are musical exchanges. In recent times, the dynamic of sharing musical cultures has been particularly electric between Nigerian and South African music game players, from the days of house music collaborations such as Davido and Mafikizolo to the banger track era that gave us jams such as DJ Maphorisa and Wizkid's Soweto Baby, Runtown and Uhuru's Banger and the afrofusion ravers from Burna Boy and AKA. With a new decade upon us, we've been welcomed not only with South Africa's intricately loopy new dance hall sound, Amapiano, but it has been further strengthened by a South-African crossover.
Woman- Rema, July 2020
An unrestrained confession of his love for women, Rema's Ozedikus-produced Woman was one of the first Nigerian iterations of the airy pads, snares, and heavy basslines that make up the spirited core of Amapiano music. Woman was a perfect combination of Nigerian elements like more compartmentalised instrumemtalisation and inviting percussion that sped up the tempo of the song and Rema's fluid flows and had opened the floodgates of Amapiano records from Nigerian musicians and also served to bridge the gap between the sound and the everyday Nigerian.
---
2. Highway- DJ Kaywise, Phyno, December 2020
Highway will go down in history as one of the biggest Nigerian songs of the year 2020 that also shook things up into the next year. This is not only on account of the weightiness of the collaboration– super influential DJ, Kaywise links with King of the East, Phyno, but also because the two artistes had ensured they took no prisoners on their Willis-produced entry. So much so that the entire federation had to brush up on their Igbo-speaking skills as well as their Saje dance moves.
---
3.Biggest Nigerian Amapiano songs:
Ke Star remix- Focalistic & Davido ft Virgo, February 2021
Strategic collaborations in music that become smash hits are absolute win-win moments, for the music artistes, their fans, and in this instance, for South Africa and Nigeria. This is because prior to the remix, Ke Star was already a certified Amapiano hit back in South Africa and with the brilliant crossover that had Davido jump on it, Nigerians also got blessed with a record that's the perfect turn up soundtrack.
---
4. Monalisa- Lojay & Sarz, April 2021
Sleeper tracks are records no one sees coming and then like rain on a sunny day, starts blowing up on the charts. That is very much the story of Sarz's & Lojay's Monalisa. The softly rising Amapiano track with thrilling whistles off their LV & ATTN project and has now become the people's favourite over the initial hit records and one listen is sure to become several more to convince you of why power changed hands in its favour.
An interesting backstory to Sarz's input on Monalisa is the fact that as early as February 2020, the prolific music producer had played the beats on Instagram live with a mashup of Wurld's Trobul from their joint album.
---
5. Kilofeshe- Zinoleesky, November 2020
When Zinoleesky put out Kilofeshe late last year, it had become an instant anthem on the streets and in clubs as well. The cocksure feel-good banger track had cemented his place as a fast-rising act in the music scene with the Niphkeys-produced Amapiano instrumentals incorporating trumpets in a refreshing way to resound the fact that imitation is indeed the best form of flattery.
---
6. Biggest Nigerian Amapiano songs:
Yaba Buluku- DJ Tarico & Burna Boy ft. Preck & Nelson Tivane, June 2021
Over the years, Burna Boy has been a constant collaborator with South African musicians and with the Amapiano takeover of Amapiano songs, this has come to include DJs. On the electrically charged record that comes with a juxtaposition of Yoruba and Xitsonga– a language spoken in Mozambique and South Africa, the self-titled Odogwu proves himself over wickedly brilliant Amapiano instrumentals, ebbing and flowing with the airy pads and basslines.
---
7. I Got A Friend- Davido ft Mayokun & Sho Madjozi, September 2020
2020 was an undoubtedly tough year with the human race spending the bulk of it indoors but in Nigeria, when things started to lift and nightlife to peak, Davido's I Got A Friend was one of the party starter anthems, sure to have everyone busting their best Amapiano moves.
I Got A Friend also sees Davido play host on Amapiano instrumentals by South-African Tboy Dflame to Sho Madjozi.
---
8. Squander- Falz ft. Niniola, December 2020
Falz has relentlessly earned his chops as one of the most versatile rappers while Niniola remains the uncontested Queen of Afrohouse. So it was only right that Squander which was made by Falz's longtime producer, Willis came with the addictive levels that it did. It also helped greatly that Niniola had before that made a solo Amapiano entry that was equally enchanting.
---
9.Biggest Nigerian Amapiano songs:
Southy Love- Peruzzi ft. Fireboy DML, December 2020
Sweet percussions, a vocoder-backed cry in Yoruba and thumping basslines excellently put together by P.Priime start off Peruzzi's Fireboy DML-assisted Southy Love. All these elements in turn come together like a well-binded three-person handshake to create an irresistible Amapiano-Afrobeats mashup.
---
10. Hallelu- Mastekraft ft Bella Shmurda & Zlatan, December 2020
With Equipment featuring Flavour, Masterkraft had been ahead of the curve as one of the first Nigerian producers to put out an Amapiano record early last year. Then, recruiting street hop Kings, Bella Shmurda and Zlatan, he applied further pressure to put out one of the biggest songs on Hallelu, with its catching a blend of street hop and Amapiano.
Long live the musically manifesting Nigerian-South African cultural exchange reign. May it continue to thrill us with more Amapiano bangers such as these ten. Do let us know which of them is your favourite Amapiano song by a Nigerian musician or a collaboration in the comments section below.